Experienced early years teacher Bonnie will keep children of all ages quietly fascinated with her bubbles. She and Dan the Bubble Man create bouncy bubbles, scented bubbles, bubbles inside bubbles and big rainbow bubbles. They use the fascinating properties of dry ice to introduce simple science at a fun level, creating exciting "smoke" and volcano bubbles and bubbles for the children to hold.

Everyone loves standing inside a giant bubble so all the children will be able to do this if they would like to, either individually or with a friend and staff are welcome to join in too. The bubbles will also come down over wheelchair users. Some children can even stand inside enormous bubble rainbows, which have a wow factor of their own!
In schools all ages will be guaranteed to feel a sense of wonder as they watch and participate in the bubbling.
We spend the day with you so all the children can have a turn standing inside a giant soap bubble.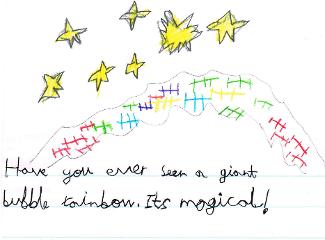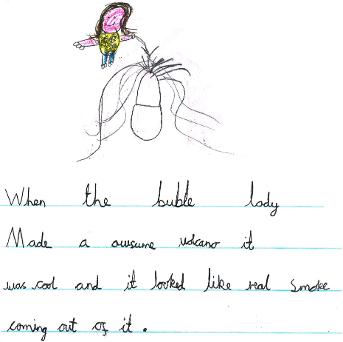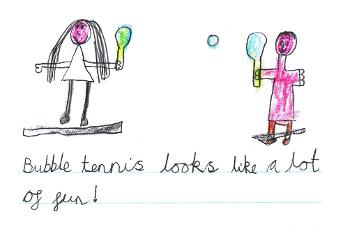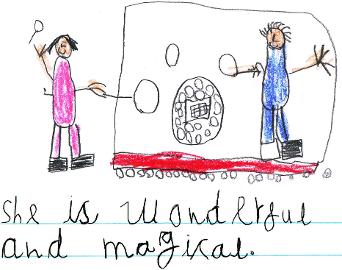 These pictures are by children from St John's Beaumont School.
"I loved standing in a bubble. I saw the volcano erupt."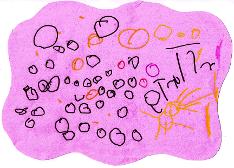 "I liked the colourful bubbles."
Southville Nursery:
"The children thoroughly enjoyed themselves and have not stopped talking about it since. They learned a lot and loved observing all the different types of bubbles you created. They were fully engaged and my favourite quote from one of the children was "She's magic." Thank you once again."

If you would like photographs taken of the children inside their giant bubbles please see Photography on the Bubble Parties page.