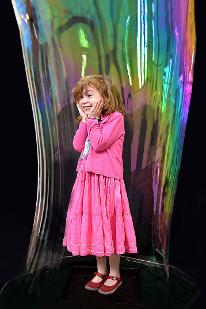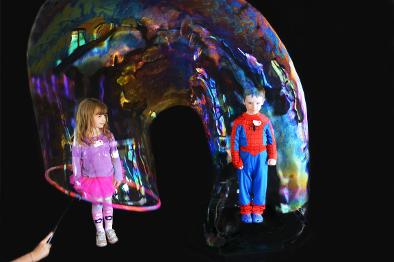 A Bubble Show is something unique and unusual for your party with beautiful giant soap bubbles to stand inside, and much more. Our bubbles have a fun Wow Factor!
The entertainment is interactive and suitable for all ages at parties, weddings, christenings, corporate events, festivals, schools, special schools & nurseries.



Bubble Party Packages


Interactive Bubble Show
Children's parties Adult's parties
from £250
60-75 minutes (depending on numbers)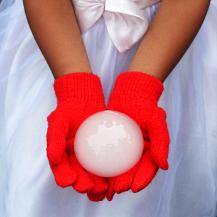 The birthday child can help us to make bubbles for everyone to watch, a bubble hairdresser, bouncing bubbles, bubbles in bubbles and rainbow bubbles. We will use dry ice to create exciting "smoke", volcano bubbles and touchable "smoke" filled bubbles for everyone to hold. Then all the children have turns standing inside giant bubbles and giant rainbow bubbles, which they love! Bubbles will come down over a wheelchair user too. Adults are welcome to join in too. The bubbling is gentle, informal and lots of fun and will keep the children quietly fascinated for an hour. It is all enhanced with music and they join in rather than just watching. 25 children is an ideal maximum.

A draught free performance area 3m x 3m is ideal with 2.5m height for the giant bubbles. The floor in your home or venue will be covered so there is no mess for you to worry about and the children can sit on mats on the floor to join in. They won't get wet.


Giant Bubbles for everyone to stand inside
£140
60 minutes

Our beautiful giant bubbles have a wow factor! They are ideal for parties and events where you would like informal entertainment and do not have lots of children to keep quietly occupied.

We will keep creating giant bubbles for adults and children to have turns standing inside. Children can go in a bubble with their parents, siblings and friends and we make wonderful giant rainbow bubbles for two adults or children to stand inside together. We also bring our giant bubbles down over a wheelchair user. Bubble fun for everyone!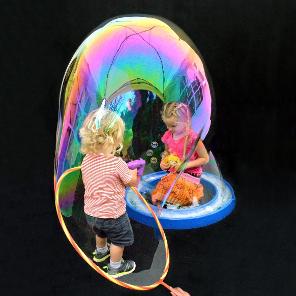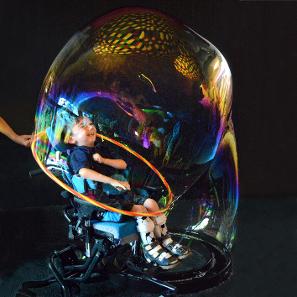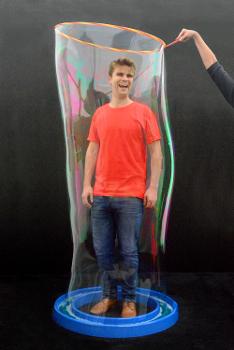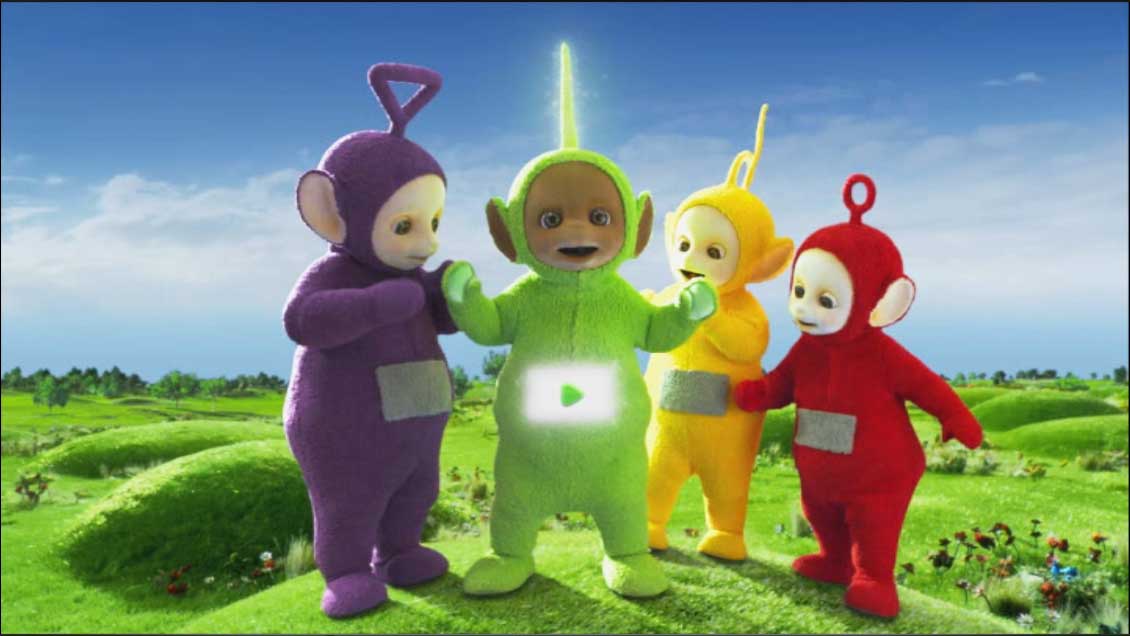 We are on the Teletubbies in episode 1:7 Bubbles
It is not showing currently but will be back soon
Weddings
At your wedding we will keep the children happily involved with our Interactive Bubble Show. They will play with bouncing bubbles, rainbow bubbles and "smoke" bubbles and will all love our giant bubbles to stand inside. After we have entertained the children we will carry on bubbling and your guests will enjoy watching their children, friends and relatives standing inside one of our giant bubbles with its beautiful rainbow colours. Everyone is welcome to have a turn!
Photographs
If you wish, our photographer Dan will photograph everyone inside their giant bubbles. You may purchase these as JPEGs or as mounted photographs or photo key rings ready at your party or event. Please see the Photography page for details.